How Bottle Shops Can Lean Into E-Commerce
On this page you will find how bottle shops in US are leaning into E-commerce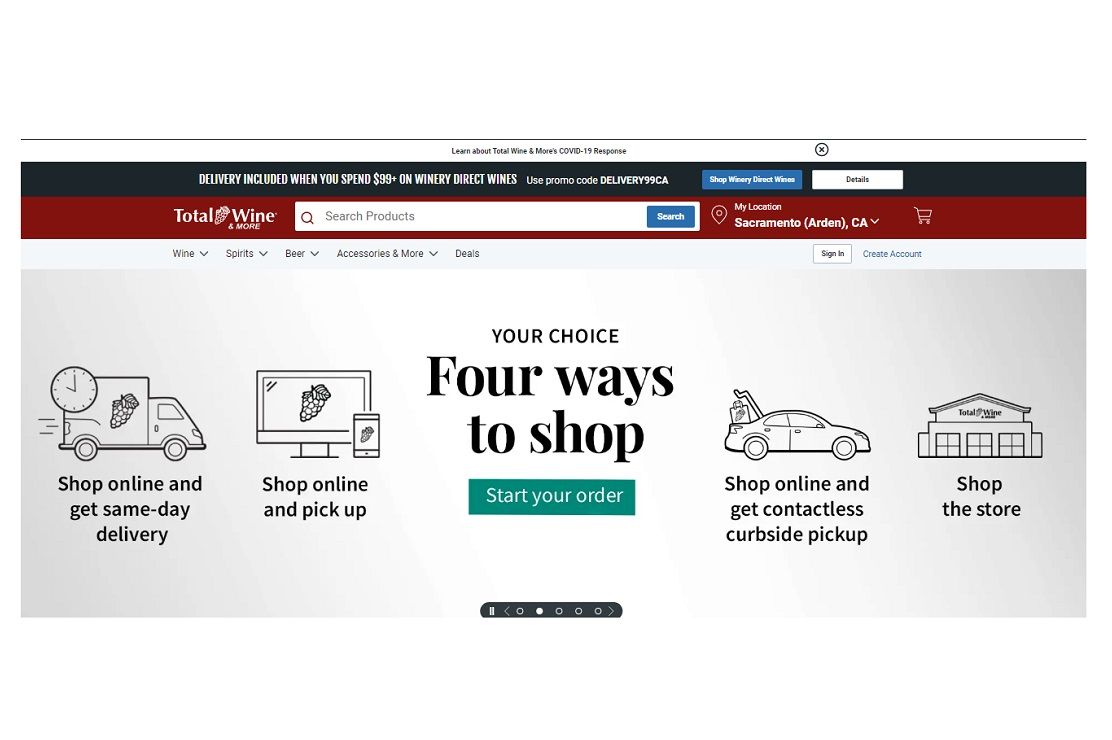 In this recent data provided by Nielson. Alcohol is the fastest growing e-commerce department among consumer packaged goods (CPG), and weekly growth has continued.
With bars and restaurants closed, it makes sense that recent sales trends depict the massive shift in where consumers buy and ultimately where they consume their adult beverages of choice. Compared with this time a year ago, during the seven-week COVID-impacted period ended April 18, brick-and-mortar alcohol dollar sales were up 21%, while online sales of alcohol have skyrocketed to over 2X that of a year ago, up 234%.
In addition to rising off-premise alcohol sales, COVID-19 has caused a massive influx in the number of active omnichannel off-premise buyers we're used to seeing. In fact, during the week ended April 11, the number of off-premise buyers purchasing alcohol was up 27% compared with the same period a year ago. And it's not just physical stores seeing this uptick. There were three times as many online buyers in the two weeks ended April 18 than in the two weeks ended Feb. 29.
Online sales represent an opportunity for the on-premise channel too. The last few weeks have seen retailers and operators become more sophisticated in their approach to restaurant take out and delivery options. As a result, consumer adoption is rising. In fact, a growing number of consumers claim to be ordering alcohol with their takeout from restaurants (14% of U.S. consumers in the week ended April 25, up from 9% in the previous two weeks). And among consumers who have ordered alcohol with takeout/delivery or would consider doing so, about half would consider ordering a cocktail kit or premade cocktail [ Source Nielson ]
Consumers are looking to find how they can buy online
When Get Drinks Delivered analyzed some data, it clearly showed that consumers were looking for 3 things. Who delivers me? Who's open? And how can I order?
Growth in the keyword Wine Delivery reached almost 4 times its normal volume from February this year.
You can also see surge moments like Mothers day. Bottleshops could have easily take advantage by offering online mothers day Champagne packs for delivery as gifts. The next rush that Get Drinks Delivered is expecting is around Memorial day. May be coming up with a mix of Beer pack and some white wines would be a great idea and promoting that curbside and online would surely help you drive large orders.
When we asked the small independent retailers on what they feel about the online sales, here were some comments:
"We have received the same amount of emails in the last 2 months that we got in the last 10 years asking if we are open, or delivering or asking for a specific item - Said Dunkirk Wine & Spirits to Get Drinks Delivered which is located at 10802 Town Center Blvd, Dunkirk, MD 20754, United States"
The problem is we are not tech educated, we want someone to just help us go online, we have the money but dont have the time and skill. And I dont like the idea of some platforms like Drizzly and others who take margin from our gross sales, especially our beer and low ticket items. Also delivery if not optimized is a big investment. We want to grow our delivery sales and online sales.
Get Drinks Delivered is a good start where bottleshops can list their stores and the set up takes about 20 minutes only. Local customers call you directly and you can tell them about your curbside pick up and delivery options. There are many other platforms available if you don't want to get into the delivery yourself and are ready to share margins. Platforms like Drizzly, Minibar, Instacart all offer some sort of solutions for bottleshops.
Then there is an option to invest in your own online store like how Total Wine, Sams Club and other larger retailers have done. The third option is to partner with a tech company and use their backend store platform.
Here's a great list put together by E&J Gallo.
Source E&J Gallo.
Source: E&J Gallo
You can put all your sale points and links and the area's you are covering in Get Drinks Delivered to increase your awareness helping you drive more orders.
Bottle shops must try new things in Marketing
Not many bottle shops are good at trying new marketing, as most of the owners are busy at the counter themselves, stacking shelves, purchases and maintaining their day to day operations, it becomes tough for them to learn and try new things. Retailers who have taken the initiative of creating awareness around delivery and curbside have seen solid growth in these new channels. Get Drinks Delivered would encourage bottle shops to think on this very seriously and be prepared for the 2nd wave. Imagine a case, where the Govt says you can sell from a store but only curbside and deliveries are open. You must prepare your bottleshop for the worst.
If you are a bottle shop anywhere in the world, you can list your business on Get Drinks Delivered and grow your curbside and delivery sales. Free listings for the first year of your membership are available right now to help small business operators.
One bonus tip for bottleshops.
As your suppliers to make digital marketing for you...they would be more than willing to help you drive online awareness.
Great example of how E&J Gallo Supports its off-premise merchants.