How Restaurants In the US Are Serving Customers Through The Pandemic
Check out how restaurants shifting their strategies to make sure customers get safe deliveries and pick-up services in the US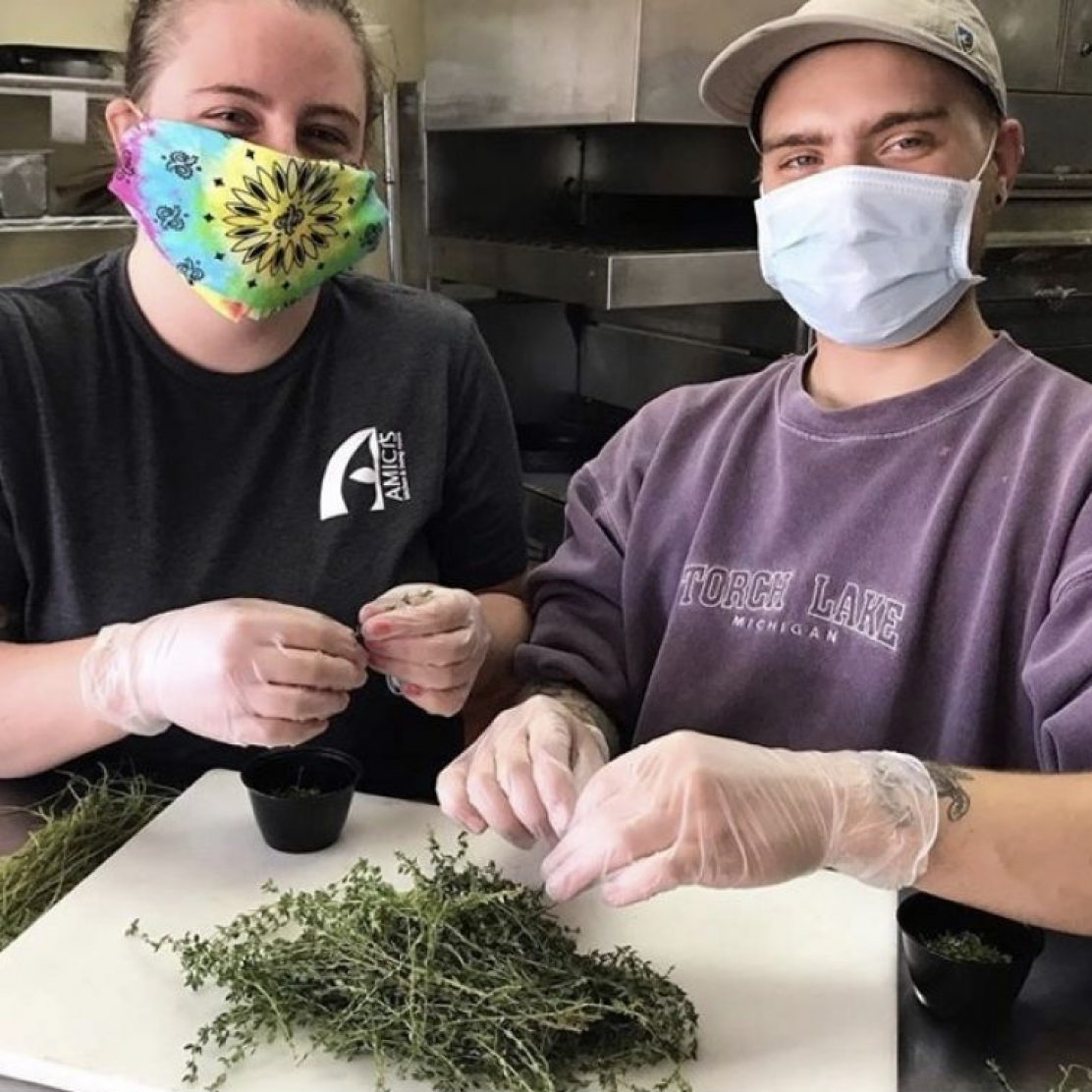 The global outbreak of the Covid-19 virus has caused a major shift in the way businesses work, and restaurants are no stranger to the shift. For the safety of everyone, and to follow social distancing protocols, most restaurants have shut down their dine in services, and with people quarantining themselves, even if restaurants were open, customers wouldn't necessarily be inclined to dine in. However, restaurants still need to give their customers what they want, be it comfort food, or a boozy take-away menu.
Keeping the situation in mind, restaurants across the United States have are now offering fully fledged delivery and pick-up services. Before the pandemic took over, deliveries and pick-up services were much different that they are right now. Right now, restaurants are going out of their ways to do different things to make sure that they can serve their customers in the most effective way possible.
Here are a few ways in which restaurants in the US are serving their customers through the pandemic.
Safety First
The first and foremost thing that everyone is looking for is safety. Right now, everyone is following strict safety protocols to protect themselves from the outbreak. Following protocols such as wearing masks, using hand sanitizers, wearing gloves while cooking, delivering, and offering pick-up have become an essential during this time.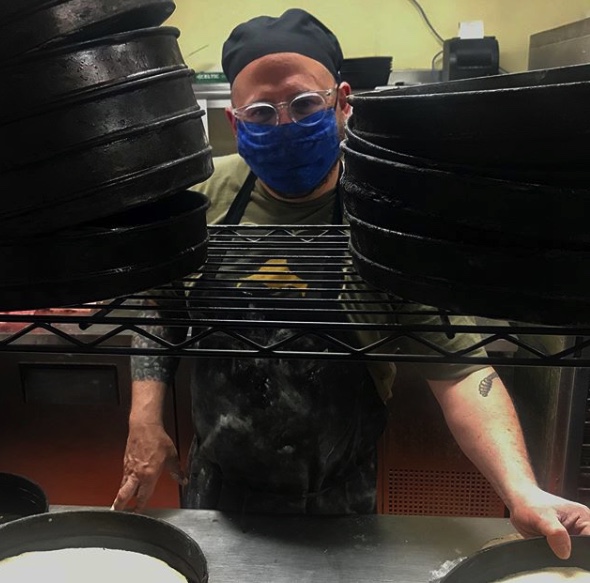 [Amici's Kitchen & Living Room following safety protocols by wearing masks while preparing their pizzas]
Located in Berkeley, Michigan, Amici's is making sure that their customers get a safe delivery, and a safe pick-up. By following such safety protocols, they are making sure that their food and drinks are both safe for customers to consume.
Contactless Pick-up & Delivery for the win
As we all know, the one thing that everyone is afraid of right now is contact. So for that, restaurants are now offering contactless pick-up to their customers. For most restaurants, some of the protocols they are following for contactless pick-up include:
Online payment
Having customers open up car trunks in advance to place food & drinks in directly
Taking online orders for pick-up
Offering a specific pick-up time to make sure not many people are around during the same time
Leaving delivery parcels on doorsteps and making sure customer is informed
Let's once again take a look at Amici's Kitchen & Living Room, who are offering a full contactless delivery by following the protocols mentioned in their instagram post.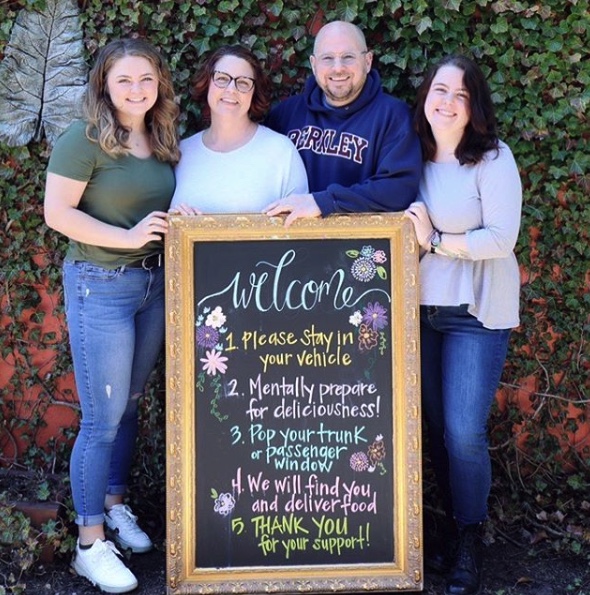 Image Source: Amici's Kitchen & Living Room
Another great restaurant that is offering contactless pickup is Roti Indian Bistro in San Francisco. Let's be honest, we all want a little bit of comfort food, and what's better than some naan bread and vindaloo with a glass of wine, or even a chilled beer. Roti Indian Bistro is offering contactless payment for customers, and also specific times where customers can pick-up their food and drinks, and also call for delivery. So if you're craving some safe Indian food in SF, you know who to call.
Other than pick-up, restaurants are also offering contactless deliveries, in which all you need to do is order online, pay online, and food, accompanied with your favorite booze will be dropped off at your doorstep.
Menu Switch Ups
Right now, everyone is craving something different. We know that you're probably not into spending a fortune on a fancy meal right now. Restaurants understand this, and they are making sure that they can give you what you want. They're switching up their menus and offering specials for customers based on what people want - especially comfort food since that's what most people are looking for right now. And how can we forget the ready-to-drink, freshly mixed cocktails that some restaurants are delivering.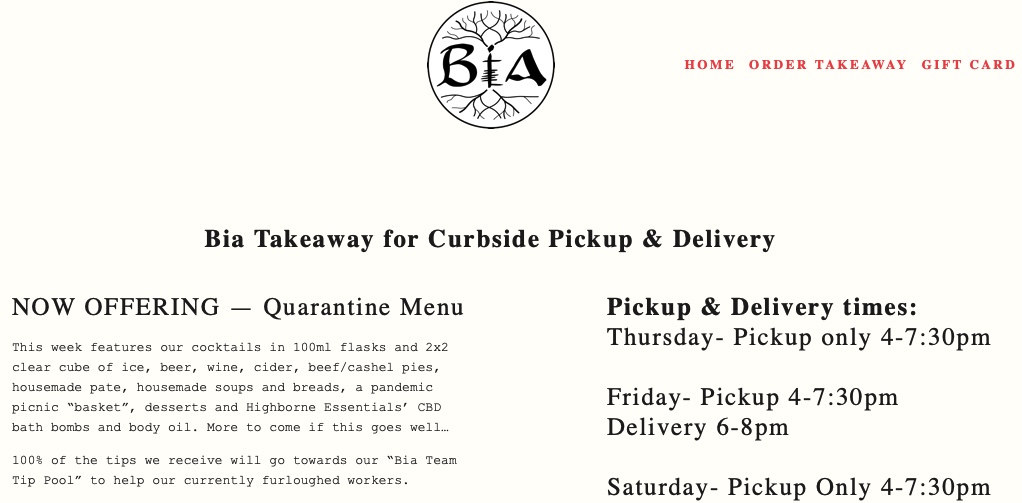 Image Source : BIA
Take a look at BIA in Rhinebeck, New York. A great way BIA is offering their customers a specialized menu is by offering a new quarantine menu weekly for take away and delivery. Every week, they change their menu.
Not only that, but BIA also offers a great deal for some of your favorite cocktails. The Rhinebeck located restaurant is offering cocktails in a one-time drink jar, and offering delivery and pick-up both. Let's be honest, we all need a little bit of booze in our lives, and a cocktail that is freshly mixed at a bar is something that a lot of us have been craving. Thanks to BIA's cocktails, you can order freshly mixed cocktails for delivery and pick-up from BIA.
Once again, Roti Indian Bistro in San Francisco steps in here. Along with their wide takeaway menu, they also offer wine and beer specials with their meals, for both delivery and pick-up.
So as you can see, there are a plethora of restaurants offering delivery and pick-up in a manner which will not only be safe for the customer, but will also satisfy the customer's wants during these times.