Get Wines From Trione Vineyards & Winery - Sonoma
See how to get wine delivery at your doorstep with all the safety measures from this Family owned Sonoma winery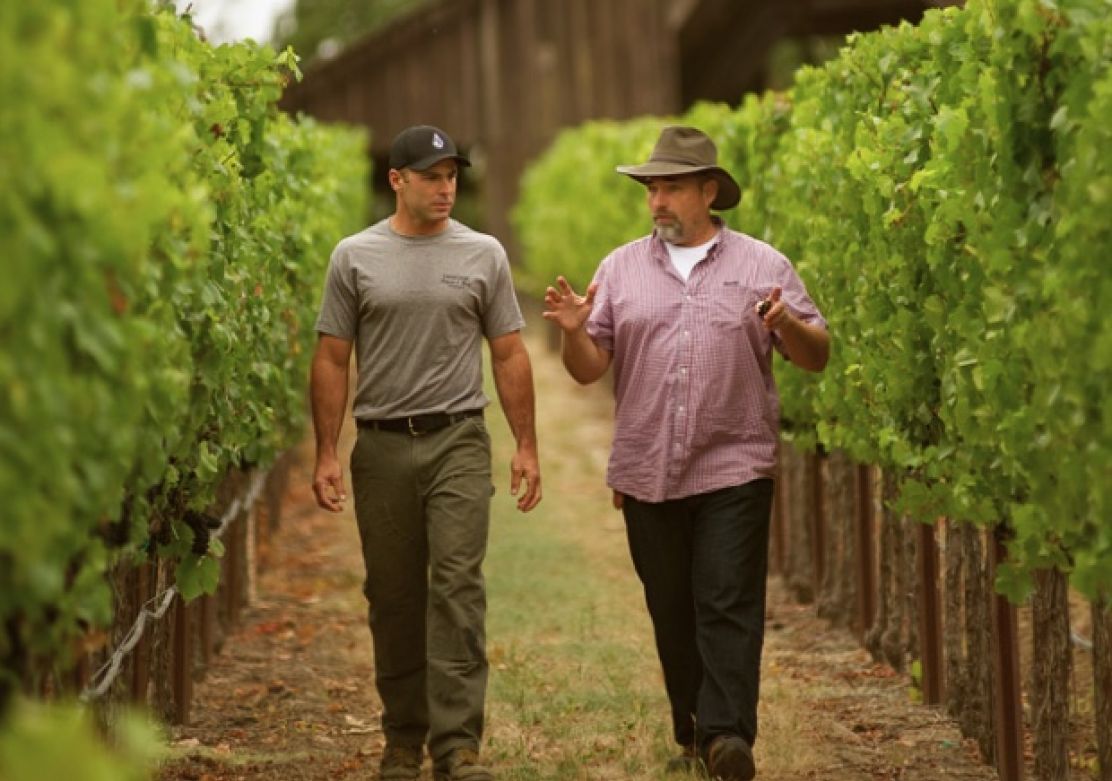 Three generations, four decades, five ranches — our family is deeply rooted in the Sonoma County wine industry.
During 2005 a new chapter took root: Trione Vineyards and Winery. Our family built a winery on our Home Ranch in Alexander Valley and appointed Scot Covington winemaker. Scot made Trione 2005, 2006 and 2007 vintages in a custom crush facility; the winery construction completed in time to receive the 2008 harvest.
Living a winemaker's dream, Scot selects just three percent of the Trione estate grapes and crafts small lots of wine in his customized "studio". Scot's goal: make wines that express the highest level of quality across all varieties: Cabernet Sauvignon, Chardonnay, Pinot Noir, Sauvignon Blanc, Syrah, Primitivo and Zinfandel.
And winery operations are a family affair. Mark Trione is President, Vic is Vice President, Mark's daughter Denise is the Director of Sales and Marketing, and her husband, Kris Hicks, is Vineyard Operations Manager. Vic's son, Henry, has joined the team as a sales representative for Marin and Sacramento.
Trione winery is located next to a 1908 landmark stone building at the Home Ranch in Alexander Valley. Respecting history and tradition, our family restored the Old Stone Building, preserving the history and authentic character.
The storied building, carefully erected to be earthquake-proof, features the area's first concrete floor and magnificent Douglas fir beams. It now serves as the winery's venue for events. Trione treasures its local history and was able to retain the original bond number, 350, that was given to its predecessor, Nervo Winery. The authentic building is an intriguing stop for wine tourists eager for a taste of Sonoma County history and the wines that have earned the Trione name.
Now an event center, it is available for private parties and events. Visitors can enjoy bocce, picnics, food and wine events, and impeccable hospitality along with their wines. Guests often Join the Estate Guild wine club, so they can return and bring their families for Trione's ultimate VIP experience.
OUR PROPERTY IS NOW OPEN BY APPOINTMENT
THUSRDAY-SUNDAY FROM 11-4PM
What we are Offering:
A four 4-ounce wine sampler with cheese, sharable for up to four people - $64
Featured wines by the half bottle carafe - Prices vary
All wines by the bottle - Prices vary
Reservations required, persons under 21 not permitted onsite at this time.
Non-contact wine pickups and purchases may be done during these hours.
Please email tasting@trionewinery.com to make a reservation
FOR FREE LOCAL SONOMA COUNTY "PORCH" DELIVERIES
MINIMUM SIX-BOTTLE PURCHASE
Please select "pickup at winery" at checkout under the shipping information.
Someone over the age of 21 must be home to sign for the wine.
Wines:
2018 Sauvignon Blanc
The Vintage
The 2018 vintage will be one described by poets and songwriters…it was a season of dreams. The harvest began in earnest the second week of September, which is considered normal in most years, but for the past three or four harvests it would seem late. The season was of almost perfect pace and timing, with fruit ripening on a gradual scale which allowed for a much more relaxed tenor to the usual more frantic time of year. The term "hang-time" gets used a lot in describing harvests, but 2018 sure proved to be the harvest of hang-time. A moderate summer, leading to a moderate fall weather pattern allowed for full flavor development across all varieties.
Winemaking
The making of the 2018 Sauvignon Blanc utilized traditional methods of hand harvesting and whole bunch pressing to ensure the highest quality juice. The South African yeast strain, Alchemy II, was used for fermentation. This yeast strain imparts fresh gooseberry and grassiness to the wine which balances the fresh fruit components on the palate and finish. If you close your eyes and sip, you may see visions of the Loire Valley or perhaps the Marlborough region of the South Island of New Zealand.
Tasting Notes
White peaches, nectarines and mandarin zest are the first hints on the nose. The acidity and sweetness on the palate are in perfect balance. This wine is mouth-watering and leaves one craving for fresh oysters, sourdough baguettes, aged gouda, a sandy beach and a setting sun. Cheers!
2019 Rose of Pinot Noir
The Vintage
The 2019 vintage is best described as remarkable. The growing season was nearly ideal. Sonoma County experienced a few late rains in the month of May followed by a series of warm days that provided full flavor development and fruit maturity in all varieties. The crop load was right where we wanted it and the mild fall weather patterns ripened the fruit to perfection. Almost all of the grapes were off the vine when the Kincade fires hit in the northern Alexander Valley. Wildfires continue to plague the wine country but as they say… that is another story.
Winemaking
Early morning, whole cluster, hand harvesting was implemented in the making of the Rose'. The grapes were destemmed and placed into an 80-hectoliter tank press to rest for 12 hours under a blanket of dry ice. After 12 hours the free run juice was drained to a tank, no pressing was done. The wine was cold settled for two days then racked off the sediment to another tank. The juice was analyzed and additions were made including a Burgundian yeast selection called RC212. The juice was then placed into neutral French oak barrels and the fermentation began. Fermentation lasted about 3 weeks after which the barrels were topped and SO2 added. The barrels then remained in the cellar, aging for 4 months.
Tasting Notes
The 2019 Trione Rose 'of Pinot Noir is at first glance a beautiful kiss of Spring. It's light, refreshing and aromatic with the perfume of wildflowers, honeysuckle, and rose petals. This Rose' will pair with many dishes from a carefree picnic basket to a main course of Alaskan halibut or king salmon.
2017 Chardonnay
The Vintage
2017 will be remembered as the year of the fires in Sonoma County, it will also be remembered as a near perfect vintage for most winegrowers. Spring rains meant that the vines had plenty of reserves to work with during bud break and the flowering seasons. The summer months were warm and mild, ideal growing conditions. Things warmed up in September that hastened the harvest season. All in all, yields were average to slightly below average with quality across all varieties at near perfection. At Trione we were done harvesting by October 6th, slightly earlier than normal.
Winemaking
Time honored, traditional and hand crafted are the words I use to describe my winemaking style. This Chardonnay is selected, row by row, bunch by bunch in our Russian River Ranch vineyard. The whole bunches of grapes are placed into the press and gently squeezed to extract the juice. The juice is then cold settled with no additions made. After 24-36 hours of cold settling the juice is transferred to 100% French oak barrels in which 35-45% are new. The remaining 60-65 % of the barrels are one and two years old. A special mix of the previous vintage's lees is added to the juice as well as a selection of new yeast. The yeast that is used is a Bourgogne strain called CY3079.
Tasting Notes
Bottled poetry is the description of the 2017 Trione Chardonnay. Burgundian in style of both nose and palate. Rich and inviting, this wine offers a complex mix of toasty baguette, warm melted brie; silky but with the structure demonstrating the aging potential. The 2017 Chardonnay is tasting great now but will be awesome for the next 5-7 years. Cheers!